Greg Call
Profession
Scientist
Biographic Information
Gender
Male
Died
September 2033
Residence

Vallejo

Mean Streets information
NAV code
NC 4753 (home)
NC 8911 (lab)
Appearances
Appears in
Mean Streets
Greg Call was a brilliant scientist who worked as a consultant in MTC. He had trouble keeping company secrets and was the victim of an "accidental" shooting or suicide with a .38. After his death a couple of Law and Order Party searched his spartan house and Big Jim Slade made sure he was dead.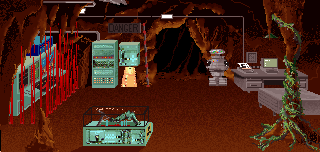 The Police Chief told the officers that the case is top secret, and Tex Murphy especially should not be told anything about it. However Steve Clements started to get suspicious about the case and gave Tex the information.
Tex Murphy visited his house and found a map behind a dresser in the bedroom with an area near Mt. Shasta, which leads to his secret lab. at this location he had a map for an abandoned gold mine (NC 1700).