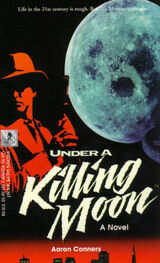 Tex Murphy: Under a Killing Moon (originally published as Under a Killing Moon) is a novelization of the game Under a Killing Moon written by Aaron Conners in 1996. The book was updated and expanded when it was rereleased in 2014.
The basic plot, characters, and setting remain mostly the same, but there are several differences, including extra information, new characters, more detailed descriptions and motivations, and other more radical changes such as character deaths. Scenes and characters from the game that did not relate to the Moon Child plot were removed.
Countess Renier is portrayed as an old lady, whereas in the game she is a consummate woman. Colonel Dobbs is renamed Roy O'Brien.
The final ending of the game (meeting The Colonel and Eva in the bar, and dancing lessons with Delores Lightbody) is also changed to continue this style.
Mistakes
There are several logical and plot mistakes in the narrative:
In Chapter Four, Tex mentions that he is returning to his office, at the New San Francisco. Everywhere else is established that Tex lives in Old San Francisco.
In Chapter Eleven, Tex has spent the night without a sleep and notices the first rays of light. However it is later mentioned that the time is only 6:54 AM. During December the sun rises much later than 7:00
External links
Community content is available under
CC-BY-SA
unless otherwise noted.