We're Getting Mutants in the MCU - The Loop
Play Sound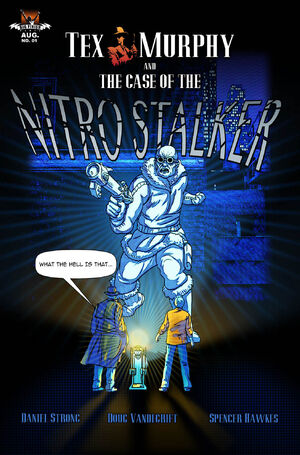 Tex Murphy and The Case of the Nitro Stalker is a 32-page comic book prequel for Tesla Effect. It was released for kickstarter backers who pledged $250 or more.
The story is set in april 2049, and as the title suggests it features the Nitro Stalker. It features several events previously mentioned in Tesla Effect, such as Mac Malden retiring, and Tex Murphy meeting Taylor LaMintz.
Plot summary
Somewhere in New San Francisco, Tex Murphy investigates a crime scene of a frozen body together with police officer Mac Malden. Tex Murphy promises to solve the case in his own way.
Later that evening Tex is drinking coffee at the Brew & Stew, and meets investigative reporter Taylor LaMintz. She explains that she invented the name Nitro Stalker in her newspaper articles. She also wishes to team up with Tex Murphy for a big scoop.
Later that night, Tex Murphy works from his home office, but falls asleep while thinking about the complex case. He wakes up when Archie Ellis calls him, and tells him to meet him at the crime scene. Since the body is not shattered, he is able to use a gizmo to extract the last image from the victim's retina. This reveals that the Nitro Stalker moved the body from another location. Taylor shows up and recognizes the location as an abandoned Ice Cream Sandwich factory.
They travel to the abandoned factory and encounters dozens more frozen victims. The Nitro Stalker appears and tries to freeze them using his freeze gun. Tex is however able to overpower him and kills him with the same freeze gun.
The next day at an unknown place a man is pleased with how the Murphy Project is coming along.
Credits
Story by:

Daniel Strong

Pencils:

Spencer Hawkes

Illustrated by: Doug Vandegrift
Errors
Taylor claims that they don't print newspapers anymore, still one appears in the final page.
The newspaper

San Francisco Chronicle

is dated Saturday, April 20th, 2049. This date is however a Tuesday.